THAT advent calendar…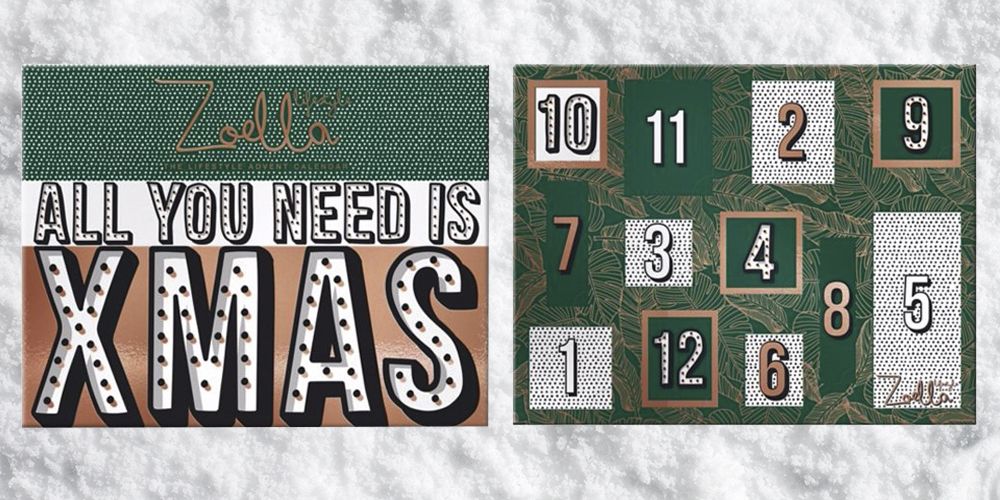 Image from: Cosmopolotin.com 
Okay, first and foremost, let me make it clear. I am in no way 'bashing' Zoe Sugg. I am actually subscribed to her bubbly and inspirational channel and I have and always will admire her for her YouTube and businesswoman journey. So I was amazed to see so many tweets criticising her and her new product in her lifestyle range: Zoella Lifestyle. If you have no idea what I am talking about then here is a quick brief: Zoe announced she is releasing a 12 day advent calendar. Here's the description from Boots.com:
This individually designed collection will brighten and accessorise your home and life. Discover 12 amazing and exclusive treats, from beautifully scented candles to stunning accessories, stationery, baking goodies and other special surprises.
Read more at http://www.boots.com/zoella-12-days-of-christmas-advent-calendar-10235552#feUUVe2rc1mzj0Ku.99
Unlike this description, the internets' reaction was not so positive when they saw the hefty price tag. Yes, you can stop wiping your screens. It is in fact, £50. Let me take this moment to remind you, I am not trying to paint Zoe in a negative light. What I am about to say (type) is strictly my own opinion on this certain item…. Ready…. Okay….
It's too expensive. There.
These items would never add up to £50 if you were to buy them from your local shop. You are essentially paying for her name and brand. Now, do I think Zoe was in her design meeting and said; "Yes, good. Now let's charge £50 for these small things because my viewers will buy anything with my logo and the word 'Xmas' on it!"? No. Of course not. In fact, I don't think Zoe estimated the price at all. I expect the marketing side of her projects did that. But I obviously cannot say if she argued that it was too expensive.
Let's face it. Majority of Zoe's viewers are young girls and boys who aspire to be like Zoe. Buying her range makes them feel closer to her and that they are showing their support in the best way, next to watching her videos. The thought of getting new items picked by Zoe, herself, for 12 days in a row would absolutely appeal to them. Who could blame them? They will naturally go to their parents and ask for more pocket-money so they can buy the calendar. They're begging their parents to buy them online at this very moment, in fear it will sell out. It's like me whenever Kim Kardashian West comes out with something. I WANT IT NOW!
Sidenote: I personally love her contour kits. Powder and sticks.
With this in mind, Zoe made a mistake. She should have known and recognised that majority of her viewers would not be able to afford this. It also crossed my mind that parents may not understand the type of love viewers have for their favourite YouTubers. Majority of the time, they can do no wrong. As a result, the rationale parents who say 'no' then become the bad guys. We've all been there.
This leads me on to discuss: Is Zoe the only YouTuber to have expected more from her viewers, financially? Absolutely not. In fact, I would say majority of the big named YouTubers do sell merchandise, items or whatever you want to call them at ridiculous prices. My problem with this is NOT that they sell them at these prices or at all. My problem is, when they act oblivious to the pricing. Even when they are promoting an object through advertising or because they genuinely like it. It's okay to say; "Yeah it's on the pricey side, but I really like it." We know you guys make a lot of money, we, the viewers, are the MAIN source of your income. Remember when you started and you would buy things from high street shops or find dupes for high-end items? Keep some of that originality because we are not getting rich with you. If you are, then please send some tips my way! From what I can remember Zoe does usually state when things are over a certain price mark, so this statement might not apply to her. It's still true for others though.
These YouTubers and bloggers have every single right to buy whatever they want. I am not disputing that. If I had their income I would probably buy the same things, because I would have the money to do so. If someone asked me to advertise something in exchange for a fee, then yes I would. If I truly believed in the product. There is nothing worse than being lured into an Ad and find the product is awful and be out-of-pocket. I lose trust in any social media mogul when that happens. Why should I spend time on supporting you if you do not support me, any longer. That's how it looks and feels.
I understand that Zoe would ideally and should make profit. I'm not denying she works hard and has done well to stay out of 'YouTube drama'. But, this was a mistake on her part. She should have stood her ground and said it's too much money or forget the idea completely. Her viewers would have bought a 25 day chocolate calendar at the end of the day. Because they want to support her.
As a result of all the opinions, Boots have cut down the price by 50%. So they should. So does this prove it could have been £25 in the first place? I'll let you decide on that one. Does Zoe owe an explanation to her viewers on why this all might have happened in the first place? No.
Come on guys, you can't stay mad at that face!
What do you guys think? Or does anyone REALLY care? Ha!
Much love xxxx